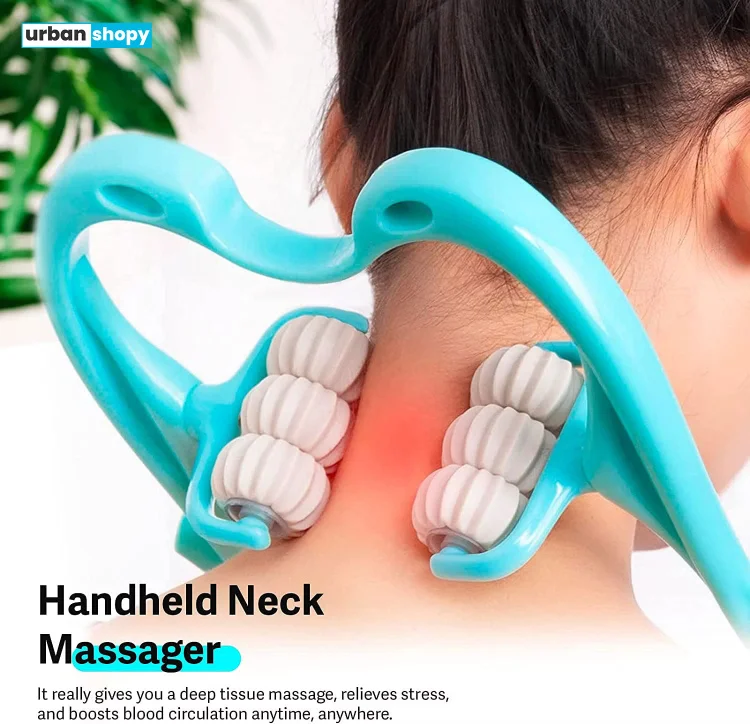 "Say Goodbye To Neck Pain, Headaches, Stiffness, Knots & Much More!"
"As a long-time user of this massager, I can confidently say it's a game changer. It's portable and has helped me relieve muscle tension and promote relaxation whenever and wherever I need it." - Disha jain ⭐⭐⭐⭐⭐ (5/5)
Struggling with neck pain, TMJ, Back pain, and tension headaches?
The Neck Pressure from Bodies will eliminate neck pain in just 10 minutes a day, you will get positive results guaranteed!
Naturally Eliminate Neck Pain (no harsh painkillers)
Your own in-home Chiropractor & Reduces the frequency of headaches & migraines Stress Relieving (sleep, feel & better).
✔ It features six rotating massage balls that move along the contours of the neck and shoulders, delivering a deep tissue massage to help alleviate tension and promote relaxation.
✔ Helps release tight, stiff, and sore muscles in the neck, shoulders, or legs by pressing, rolling, squeezing, and kneading.
✔ Often versatile, with various shapes and sizes designed to target different areas of the body, such as the neck, back, feet, thighs, or hands.
✔ Manual operation means no noise or radiation, and you can control the speed, intensity, and angle to your preferences,& The device is lightweight and portable while traveling.
100% SATISFACTION GUARANTEED. How?
✔

Here's what we stand For:
We offer a 7-day easy return policy

Real-time order tracking
Why is it so Amazing?
Alleviates neck and shoulder pain
Convenient and portable design
Customizable massage intensity settings
Non-invasive and drug-free alternatives to medication and invasive procedures
Promotes relaxation and overall well-being


How to use?

How do I use my massager?

1. Put your hands on both handles, and open the device slightly.

2. Place the Rollers on the desired spot in the neck, we recommend beginning with the tightest spots.

3. Massage by slowly rotating the handles in very small circles, you can adjust the intensity as needed.

4. Use for between 5-10 minutes

5. Feel the tension and knots release and relax

Will this treat my specific issue?

This device is perfect for treating: chronic neck pain, tension headaches, tight & sore neck muscles, desk posture as well as upper back & shoulder pain. It's also great for treating specific conditions like cervical spondylosis, disc degeneration, pinched nerve & herniated disc.


Package Includes:

You will Received:

1x 6-Roller Neck Massager

& Surprise Gift ( only if you are in First 1000 customers)