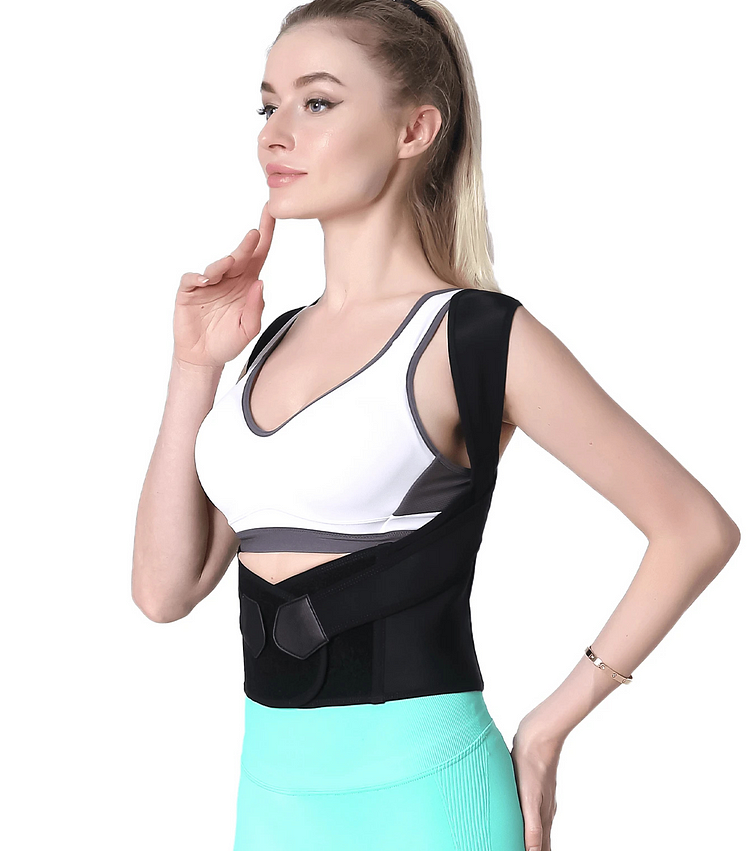 As a token of appreciation for your support, our exclusive underwear will now be available at a
50% discount for the next 3 days!
Open shoulders, reduce armpit fat, correct hunchback, essential for mobile phone users and computer users; people with hunchback, rounded shoulders, forward neck, and thick back are all recommended to arrange.


BETTER POSTURE SUPPORT
Our back-posture corrector for men and women provide support around your lumbar region without leaving your armpits feel restrained to better improve your posture.
EASY TO WEAR POSTURE CORRECTOR
The best posture corrector and back brace in the industry. It's extremely easy to wear because it's really adjustable.
BREATHABLE MESH MATERIAL
Easy to clean and dry, the back, shoulder, and neck posture corrector is made of breathable mesh material that keeps your back from getting hot and sweaty.
2 IN ONE, BACK SUPPORT AND CORRECTOR
Kiss your humpback or scoliosis goodbye because our adjustable back brace has 2 flexible ABS support bars that will help straighten your back. This lumbar brace for both men and women will help relieve pain in your shoulders and waist by taking pressure off the key areas in your back.
AMAZING HEALTH BENEFITS
Kiss your humpback or scoliosis goodbye because our adjustable backbrace has 4 fiber rod support rods, that are sealed and non-removable to help straighten your back. Relieve pain in your shoulder, neck, and waist by taking pressure off the key areas in your back.
How Posture Correctors Work
What all posture correctors have in common is that they are designed to address muscle imbalances that arise when we spend long periods of time in unhealthy, fixed positions. While the muscles in the front of the chest (pectorals) have a tendency to become tight, the muscles in the upper back, including the middle trap and rhomboids, are likely to become overstretched. Correctors can help activate the muscles that haven't been worked enough and give them a guide for where they need to be.
What are the benefits of back braces for good posture?
Before we delve into posture correctors, let's consider why posture is important. Good posture involves standing or sitting straight with your shoulders back and your head in a neutral position. This positioning maintains the natural curve of your spine. And it takes stress off of your muscles and ligaments.
Size references
All products are true to size in accordance with the size chart below.
| | | | |
| --- | --- | --- | --- |
| SIZE | HEIGHT | WAISTLINE | WEIGHT |
| S | 130-160 | 62-74 | 27-47 |
| M | 150-170 | 72-85 | 40-60 |
| L | 165-180 | 84-96 | 50-67 |
| XL | 175-190 | 95-106 | 67-87 |
| XXL | 180-195 | 105-118 | 87-97 |
Our Guarantee
We take pride in our products as we believe they are amazing. However, we understand that buying things online can be daunting, especially for the first time, so we offer a 100% satisfaction guarantee.
Support small brand
Click the ADD TO CART button before we sell out.
Shipping Time
Our current turnaround time is running 1-5 business days. Although some of the items are made ahead, due to the high volume of orders, shipping times are longer than usual. If I have the item ordered in stock I will mail it out as soon as possible!
SPEEDY SHIPPING. No one likes waiting. To your door and it's fast.
Thank you for your patience. Please let us know at support@mail.cubicbee.com if you have any questions.