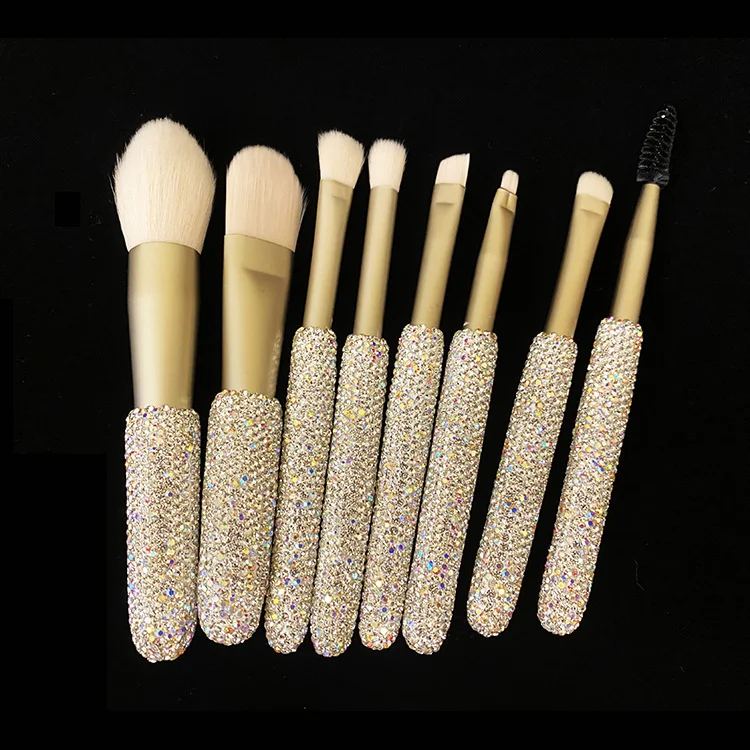 Get what you pay for and more with this premium quality makeup brush set.
Each and every brush is incredibly soft and dense, allowing for smooth application without any irritation. Others that tend to use cheaper, lower quality rhinestones, typically clear acrylic, and plastic, easily scratch, degrade, and lose their sparkle over time; however, we use zircon, which provides a longer-lasting, clear sparkle.
Set Contains
Powder Mineral Brush
Big Eye shadow Brush
High Light Brush
Eye Smudge Brush
Concealer Brush
Eyebrow Brush
Small Eye shadow Brush
Blusher Brush
Eyelash Brush
Multifunction Foundation Brush
Multifunction Blush Brush
Mini Kabuki Brush
Ferrule Material: Aluminum.
The soft, smooth, and dense bristles are made of selected natural goat and pony hair and premium synthetic hair.
How to clean these sparkling Makeup Brushes?
1. Run the bristles of the brush under warm running water.
2. Apply a small amount of gentle shampoo to the bristles and work into a light lather.
3. Rinse the bristles thoroughly under running water. You will notice that the water leaving the brush is tinted from old makeup.
4. Continue rinsing until no color remains on the brush.
5. Allow the brush to air-dry.

Will The Bling Stay For Long?
100% yes! Thanks to our innovative glass mesh design technology that secures all bling in place. This special feature holds the crystals together, allowing our brush to be super solid while being super comfortable to use on a daily basis.
Make doing your makeup a more enjoyable experience with these beautiful brushes. These glamorous brushes will motivate anyone when it comes to makeup; thanks to the high-quality zircon, you can ensure that your makeup kit and vanity are as beautiful, dazzling, and flawless as your makeup.
Interested in becoming a makeup artist or love makeup as a hobby? Whether you're just a beginner, experienced, or a professional, this makeup brush set is the one for you! If you want to upgrade your makeup routine, these brushes are a great option. Every professional needs the right tools for the job, and this set is the perfect place to start. The brushes are extremely high-quality and well made, making them an essential set for anyone interested in makeup.
This is a perfect gift for any occasion to give to anyone who loves makeup, whether it's family or friends! It's a gorgeous set of makeup brushes that anyone will love doing their makeup with. It's especially great for anyone who is a bit more finicky about their tools or looking to get more serious with makeup, and therefore upgrade their makeup brushes from the cheap, plain Elf brushes.
With the variety of makeup brushes included in this set, there's one for any makeup need you may have! Create any look you want with these brushes. This is an incredibly versatile and useful set with all the brushes you will ever need. No need to worry about poor blending with these brushes; the brush's qualities ensure a flawless, streakless look with any formula, whether it be liquid, powder, stick, etc. With powder formulas, you don't have to worry about any fallout!
⚡Click the ADD TO CART button before we sell out.
Shipping Time
🔥Our current turnaround time is running 3-5 business days due to our products are all handmade. Although some of the items are made ahead, due to the high volume of orders, shipping times are longer than usual. If I have the item ordered in stock I will mail it out as soon as possible!
🚀Standard shipping is $5.99 and takes about 10-15 business days after shipment.
😉Thank you for your patience. Please let us know if you have any questions.