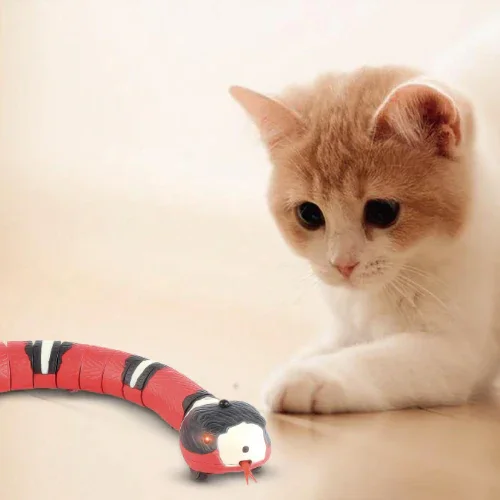 🐈Treat Your Cat With An Exciting Snake Chase🐈
Are you the type of owner that likes to spoil their cats with extra love and gifts? If yes, forget old-fashioned toys for cats and give them this Cat Interactive Snake Toy.
This toy replicates the movement of a snake to stimulate the cat's natural hunting instincts.
Once it is switched on, its eyes will flash, tongue will stretch, and tail will start moving and will immediately catch your cat's attention. It will perform all these functions for about 1 minute before going back to its dormant state.
The snake has a sensory mode on top of its head and its running feature can be activated by placing your hand about its head.
This electronic rattlesnake toy will not only provide hours of fun to your cat but also it helps to improve your cat's overall health by keeping him/her happy and active.
Fill your cat's life with meaningful interactions with this Cat Interactive Snake Toy.
Features:
🐾Easy To Operate: Turn on the switch, the cat toy starts to slide, and enters the power-saving state after working continuously for about 1 minute. When the cat touches the snake head, the snake works again.
🐾Sensor Mode: Place your hand in front of the snake toy and it will start to move forward. Its eyes will flash and will automatically avoid any obstacles that it encounters. It can flick its tongue and wiggle its tail.
🐾Hours Of Fun For Cats: Approximately 15.35 inches in length. Takes about 40 minutes to fully charge and can continue to play with your cat for over 60 minutes.
🐾Realistic Appearance: With 3D textures and vibrant colors, this cat snake toy looks realistic. Its segmented body ensures excellent sliding action for more fun for pets.

Specifications:
Material:

ABS + Electronic Components
Size:

39 x 4 x 3cm
Package Includes:
1 x Cat Interactive Snake Toy