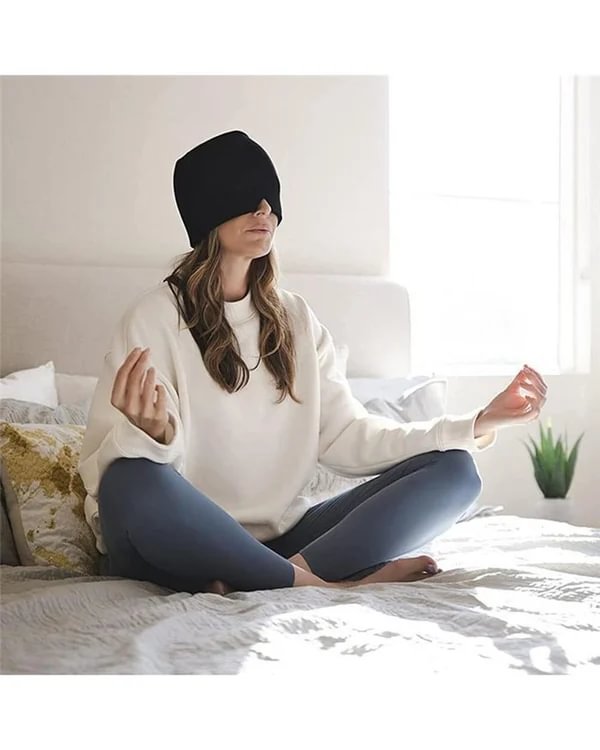 NATURALLY, RELIEVE HEADACHES IN MINUTES
Do you ever get a headache that won't seem to go away? Not only does it make you feel awful, but it can also interfere with your work and daily activities. Migraine Relief Cap helps you get your life back… without the headache.
WHAT IS Migraine Relief Cap
Migraine Relief Cap is a hot & cold therapy cap that provides 360° compression for a natural and drug-free relief for headaches.
Migraine Relief Cap works by gently wrapping your head with soothing cold compression to restrict blood vessels and reduce inflammation. The pillowy, cloud-like fabric gently cushions pressure points and relieves your headache. It's like a cooling hug…for your head.
The amazing 360-degree warm compression quickly goes to work, relaxing your muscles and melting your headache away. You can also use Migraine Relief Cap for heat therapy. Heat it in the microwave and apply it to your head as usual.
WORKS ON ANY HEADACHE
Instant Relief From ANY Headache
When a headache strikes, you need to be armed with instant relief. Migraine relief cap provides immediate relief for any type of headache, including:
Tension

Sinus

Cluster

Migraines

Puffy Eyes
And More
Not only does this revolutionary product treat all headaches, you can also place it on your neck, shoulders, eyes, and more to quickly soothe other aches and pains.
SURROUND YOURSELF IN COMFORT
Experience 360-Degree Relief
Migraine relief cap is the first headache solution that provides 360º coverage, allowing it to apply gentle pressure to every "relief point" to provide immediate, all-over headache relief.
SAFE TO USE ON BARE SKIN
Traditional ice packs can cause frostbite or damage to sensitive skin. Migraine relief cap cools down to the perfect temperature so you can comfortably enjoy fast-acting relief without harming your skin.
STAYS COLD 10X LONGER
Migraine Relief Cap modernized the doctor-recommended cold compress therapy. Its unique thermal insulation allows it to stay cold long enough for your headache to disappear.


DRUG-FREE & 100% NATURAL
Over-the-counter pain relievers may alleviate your headache but have harmful long-term effects. Migraine Relief Cap is a safe and natural treatment for immediate headache relief.
Worldwide Shipping
We ship Worldwide.
If your order is not delivered by the estimated delivery time, please contact our friendly customer service for assistance.
Our Guarantee
Tracking number for every order
Fast delivery
Safe Payments
No Hidden Charges