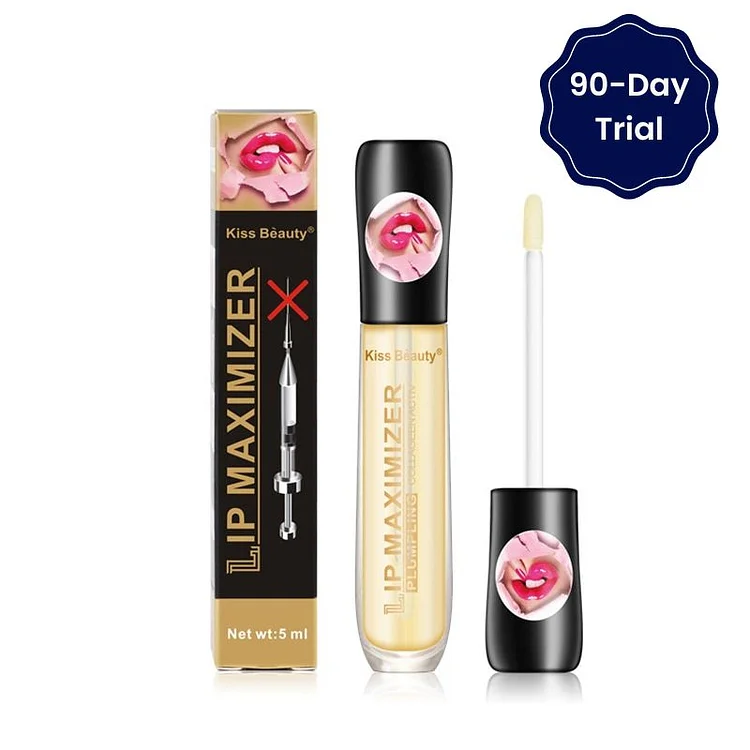 What it is:
Get instantly bigger lips for up to 12 hours with our bestselling plumper that's revolutionised lip plumping! It's the perfect way to instantly enhance the size and profile of your lips.
You can see a noticeable difference in minutes
Plumping Process:
0-1 Minute: LIP PLUMPING SERUM sensation while plumper mechanisms begin to activate blood circulation
1-2 Minutes: Stronger warming sensation indicating plumper mechanisms have been activated
2-3 Minutes: Extreme plump phase
3+ Minutes: Warming sensation continues
BENEFITS
Instant benefits:
- Immediate volume effect: + 36%*
- Hydration: 24 hours**
- Lip smoothing: + 48%*
* Clinical test on 28 subjects.
** Instrumental test on 30 subjects.
Key ingredients:
Capsicum Frutescens Fruit Extract – creates a warming effect that instantly stimulates natural blood circulation for fuller, firmer-looking lips
Zingiber Officinale (Ginger) Root Oil – fights off skin cell-damaging free radicals and helps heal with its boost of anti-inflammatory properties
Glycine Soja (Soybean) Oil – promotes skin health by protecting against inflammation and helping skin retain moisture
Apply to lips (including the outer rim). Wait 3 minutes for maximum plump to take effect.
Enhance your results by...
1. Exfoliating lips before
2. Applying to completely bare/dry lips
3. Overlining
INGREDIENTS
Hydrogenated Polyisobutene (and) Ethylene/Propylene/Styrene Copolymer (and) Butylene/Ethylene/Styrene Copolymer, Hydrogenated Polyisobutene, Methyl Nicotinate, Capsicum Frutescens (Chili pepper) Fruit Extract, Glycine Soja (Soybean) Oil, Zingiber Officinale (Ginger) Root Oil, Flavor
LIP-HEALING INGREDIENTS
A COCKTAIL MADE TO MAKE YOUR LIPS SMILE
Our industry-first Vitamin E + Hyaluronic Acid formula nourishes your lips with lip-healing ingredients that plump and moisturize the lips.
The formula is beneficial to overall lip appearance is because:
1️⃣ Vitamine E allows for lips to produce collagen for naturally plumper lips
2️⃣ Hyaluronic Acid that increases moisture retention, so lips stay hydrated and juicy.
This is the only lip product that can give you fuller and hydrated lips without needles.
Helps boost collagne production enhancing natural lip volume, creating an instantly fuller and more youthful look
HA acts like a magnet to draw moisture to the lips, while firming and plumping.
Our patent-pending delivery system targets HA where lips need it most, resulting in instant and long-term visible benefits.
100% SAFE FOR YOUR SKIN
NO PAIN, NO DRYNESS, NO BREAKOUTS. JUST A LIL TINGLE AND BIGGER LIPS
This isn't your old school lip plumper from back in the day. The spicy, tingly and almost painful feeling that barely made a difference to your lips is what we didn't want to make.
Our formula does tingle. But it's more a tickle to be honest. The light tingle let's you know the product is working but is 100% safe for your skin.
Dermatologist tested the current blend of active ingredients are gentle enough to use consistnetly but strong enough to notice visible results.
ALL DAY & ALL NIGHT POUT
HAVE YOUR GFS GUESSING WHY YOUR LIPS ARE SO FULL FOR SO LONG
Because of the serums formula, your lips won't be plump for just 5, 15 or even 45 minutes.
Expect a long lasting plump that'll make you and your friends guessing if you actually got lip filler or not.
Use it for a date night, a special event or a girls brunch. Your lips will look visually fuller for the entire time you're out.
FAST RESULTS + LONG TERM BENEFIT
IN 5 MINS OR LESS WALK OUT THE DOOR WITH CELEB LIKE LIPS
Because our unique formulation the serum is super lightweight and absorbs right into the lips leaving ZERO residue.
This let's the lips reap all the benefits of our special sauce FAST!
You can get noticablly bigger lips in as little as 5 minutes, so if your ever in a pinch and need a little extra pout. This little miracle serum got your back.
3 EASY STEPS
10X EASIER THAN APPLYING LIP GLOSS WHEN YOU'RE IN A RUSH
Because of the easy to use wand applicator there is no way you can mess this up girl...
The serum glides on the lips effotlessly. No fuss, or struggle with our product. Just 3 steps for gorgeous full lips:
1️⃣ Apply a generous coat to the lips, staying inside the lip line, as often as desired
2️⃣ This product delivers a temporary tingling sensation
3️⃣ Enjoy visibly improved volume and fullness with extra hydration
REAL RESULTS CUZ WE THE REAL DEAL
90-DAY NATURAL LIP FILLER PROMISE
Our #1 priority here is your satisfaction. Which means we stand by our product 100%, no matter what, no questions asked, no holds barred, no ifs, no buts. If you have a problem, we will solve it. Refund it. Send you a replacement. Whatever it takes. Just reach out to our Customer Satisfaction Team. We're here for you. Satisfaction. Guaranteed.